Tram stop tags bring passengers together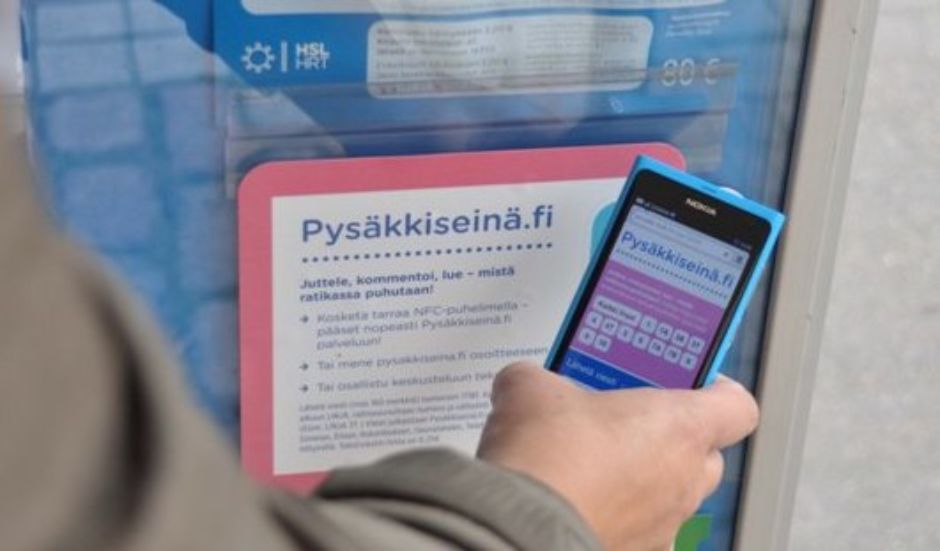 Text: Martti Ristimäki
Pictures: Susanna Ollila


The Pysäkkiseinä (Tram Stop Wall) pilot has introduced tram passengers to a new communication channel and an easy way to buy tickets with a mobile phone. Hansaprint supplied the tram stop wall stickers that include individually programmed NFC tags.

This autumn, near field communication (NFC) technology has been tested on covered tram stops in Helsinki. The technology allows passengers to easily order tram tickets and connect to the virtual messaging wall. All you need to do is hold an NFC-enabled mobile phone close to the sticker on the tram stop wall, which contains a radio frequency tag.

Thanks to the tag, you can order tram tickets with your mobile phone without jumping through many of the usual hoops. The second one of the two tags takes you to the www.pysakkiseina.fi site, which features messaging walls where tram passengers can post their thoughts from the road: observations, tips, or random thoughts.

Helsinki Region Transport (HRT), Nokia, Metro and Forum Virium Helsinki are collecting experiences about the use of NFC technology in public transport in the Pysäkkiseinä pilot. The technology is becoming more commonplace in mobile phones. There are a variety of tags that utilise RFID technology, i.e. radio frequency identification. They are used increasingly in warehouses, commercial contexts, and day-to-day situations. For example, the public transport travel cards in the Helsinki metropolitan area contain NFC tags.


Individually programmed stickers

Hansaprint's TagAge service provides print products that utilise NFC technology. Hansaprint selected the sticker materials for the Pysäkkiseinä pilot, embedded the tags and programmed them individually. The finished stickers included a transfer film and guide lines to facilitate application.

– It all starts from defining the requirements for the print product with the customer. The stickers for the tram stops were laminated to protect them from UV radiation, and they are also otherwise extremely resistant to outdoor conditions, Hansaprint's Sales and Development Manager Taisto Junkkari explains.

Unlike QR tags, NFC tags can be programmed individually. This meant that individually programmed tag pairs were provided for each of the 211 covered tram stops in Helsinki. When you hold an NFC-compatible phone close to the first tag, a complete text message for ordering a ticket appears on the screen. All you need to do then is confirm the delivery of the message. The next tag opens the tram-line-specific Pysäkkiseinä view. Thanks to the individual programming of the tags, the utilisation rates for each stop are logged into the system.  

– We collect data on the stops where the service is used most frequently, says HRT's Director of Communications Mari Flink.  

For an NFC tag to work without interruptions, it should not be attached to metal. At the tram stops, the stickers were placed on glass. NFC inlays that are suited for metal surfaces include a ferrite film. 

There are many identification technologies that utilise radio frequency. NFC technology is used for signing in to or paying for services. However, in large warehouses, it must be possible to read tags from several metres away. In these contexts, UHF technology is used. HF technology is utilised to identify library books.

Mr Junkkari emphasises that individually programmable NFC tags and cards can ensure a sufficient level of privacy and security for logins and payments. The black and white QR tag, which likens to a labyrinth or mosaic, is suitable for situations where you can have multiple identical tags that do not need to be copy-protected.

According to Mr Junkkari, the increasingly-popular QR and NFC technologies are highly convenient ways of bringing media content to mobile devices.

The Pysäkkiseinä pilot in Helsinki will continue until the end of November. After this HRT, the project's coordinator Forum Virium Helsinki, Nokia and the Sanoma-published Metro newsletter will determine next steps of the project based on the pilot results. 

According to HRT's Mari Flink, the continuation of the project will require significantly more funds than the pilot. The opportunity to download videos and images could possibly be added to the Pysäkkiseinä service. Linking the service to information regarding deviations from the tram timetable is also an option. Stop-specific timetables could easily be provided with QR tags. 

–  In the future, NFC technology could be used to check how much time or money is remaining on a travel card. Or maybe, instead of the current travel card, tickets will be downloaded onto NFC phones, Mari Flink predicts.


Hansaprint and NFC tags
 
Hansaprint has developed its NFC tag production technology for four years and began selling the tags in 2011. 
The NFC print products feature BullsEye NFC tags provided by SMARTRAC.
Sales 2011: €152,000, 660 new customers.
The average price per unit for the tags in 2011 was under €0.90.
Tags have been provided for the following locations and purposes: 

Covered bus stops in the Oulu region of Finland (approx. 250)
Logging the working hours of home care employees in a number of cities
Window stickers for cafés and restaurants in La Rochelle, France, which can be used to obtain information on opening hours, specials and menus on a mobile phone.

A mobile phone with the NFC feature is required to use NFC tags.
To activate the NFC tag, the mobile phone must be held 0–2 cm from the tag.