NFC sticker for window (100 x 142 mm)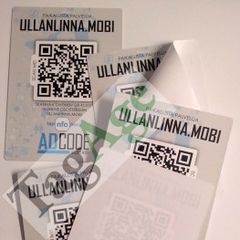 This sticker is specifically designed to be placed on window. Customize the layout with your own design, and encode tag with your own NFC-content. 100 x 142 mm or 142 x 100 mm, straight corners
Details
In our "NFC sticker for window" NFC inlay is hidden between 195 micron thick polyester layers. One side is laminated (matte) and other side has transparent adhesive with backing paper. Sticker corners are straight. Printing method is digital which means that all stickers can be different (variable QR, numbering or even versions of artwork). 

In case stickers will be read by NFC device through glass, do test the readability with NFC inlays. In our tests readability has been good with standard windows (without any metal wires). 

Polyester and lamination makes stickers very durable for normal use. In case they face heavy rain, UV radiation or constant abrasion we suggest to do piloting before rolling out widely.


Stickers can be ordered as encoded. Encoded content can be different in each sticker. When ordering the encoding do add one product from the section of " Programming/marking " to your shopping cart.